White Mountain Layer Cake
&
White Mountain Icing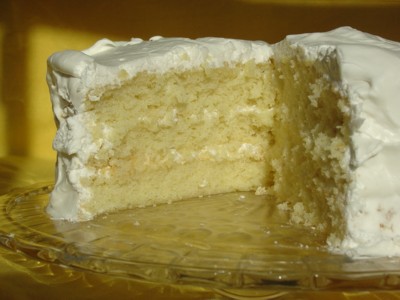 History of White Mountain Cake
The Appledore Cook Book published in 1872 devoted a chapter to cake recipes. This chapter represents a significant transition in the history of layer cakes. A comparison of those cake recipes allowed an analysis of the various cakes and what made one white cake a White Mountain Layer Cake and another Concord Cake. The White Mountain Cake recipe said to "Make like Concord cake and bake in sheets about one inch thick" Concord Cake was made into two loaves. It was a white cake flavored with lemon juice. It became a White Mountain Cake when it was baked in layers.
Layer cakes were ordinarily made as a single cake and split horizontally after it was baked. The Orange Cake recipe said to "Bake and split the same as cream pies." Cream pies were cakes split into two layers and filled with a flavored custard cream filling. Hence, the name "cream pies".
The terms icing and frosting appear to have been used interchangeably. Cakes did not have the icing put between the layers with the exception of one cake. A common way of finishing a cake is seen under the Chocolate Icing recipe. The Chocolate Icing recipe said, "Split any kind of light cake and spread with jelly; then put on the icing, and set in a warm oven a few moments to harden."
The one exception was the White Mountain Cake. Other layer cakes had two layers this one had three layers. Other layer cakes were baked and then split. This one had each layer baked separately. Other layer cakes had a filling that was not icing / frosting between the layers. This one had frosting / icing between the layers. The instructions for a White Mountain Cake were, "Have three cakes in a loaf ; lay one cake on a board and spread with frosting, then lay another on top of that, and spread this with frosting; then lay on the third, and frost the whole, and set where it will dry. This is very handsome, and will keep a long time."
What became associated with the name White Mountain Cake was a white layer cake, lemon flavoring, and frosting between the layers and covering the whole cake. Today, it is our most common type of cake which we call a Layer Cake also referred to as the Birthday Cake.
History of White Mountain Icing / Frosting
Early icing / frosting recipes were uncooked, flavored meringues. A typical icing was an egg white beaten stiff with a cup of powdered sugar and flavoring. The second generation of frosting / icing involved cooking. In the original 1884 Boston Cooking School Cook Book there is a recipe called "Boiled Icing". It was a prelude to today's boiled frostings. "Boiled Icing – One cup of granulated sugar, one third of a cup of boiling water, white of one egg, and one salt-spoonful of cream of tartar. Boil the sugar and water without stirring, until the syrup taken up on a skewer will 'thread' or 'rope'." When it is nearly at that point, beat the egg [white] stiff, add the cream of tartar, and pour the boiling syrup over the egg [white] in a fine stream, beating well. When it thickens and is perfectly smooth, pour it over the cake. It hardens quickly, and should be put on the cake before it stiffens enough to drop."
When Fannie Farmer took over the Boston Cooking School she created a frosting recipe called "White Mountain Cream". The new recipe was flavored with either vanilla extract or lemon juice. The addition of a flavoring was what set it apart and allowed it to be re-named. It was otherwise the same basic boiled frosting. In turn, the White Mountain Cake had a frosting named in its honor. Fannie was working at establishing her own name and reputation.
Farmer realized inexperienced cooks had a lot of trouble with the original version of Boiled Frosting. In her first Boston Cooking School Cook Book 1896, she introduced a new version. "Make same as White Mountain Cream. This frosting, on account of the larger quantity of egg [whites], does not stiffen so quickly as White Mountain Cream, therefore is more successfully made by the inexperienced."
Recipes
From Favorites from Old Homestead Kitchens
1963, The Old Homestead Association, Swanzey, New Hampshire
Mrs. Walter C. Hanson submitted these two recipes.
White Mountain Layer Cake
¾ cup shortening 1 cup milk
1 ½ cups sugar 1 teas. vanilla
3 eggs ½ teas. lemon extract
2 ¾ cups flour ¼ teas. lemon peel
3 teas. baking powder
Grease pans and flour. Sift flour and measure. Sift dry ingredients [flour & baking powder] together twice. Blend shortening, sugar, and eggs until light. Add dry ingredients alternately with milk, ending with flour. Add flavoring. Pour into prepared pans and bake 350 [degrees] for 30 minutes.
Author's note: Although the recipe does not explain, the quantity of flour suggests 3 - 9" round, layer cake pans were used. The round pans fit with the baking time and the name Layer Cake.
White Mountain Icing
1 cup sugar 1 teas. Karo syrup
1/3 cup water ½ teas. vanilla extract
1 egg white
Beat egg white and set aside. Put sugar and water in saucepan. Place on stove to boil until syrup makes a soft ball when tested in cold water [or use a candy thermometer]. Pour syrup gradually over egg white, and continue beating until thick and of a spreading consistency. Add flavoring and Karo syrup. Spread on cake.
Author's note: Fannie Farmer suggested adding a second egg white to make the frosting easier to handle and work.
Fannie Farmer's 1896 –
Boiled Frosting
1 cup sugar 1 teaspoon vanilla or
½ cup water ½ tablespoon lemon juice
Whites 2 eggs
For anyone interested in the original cake used to create the White Mountain Cake, here is the Concord Cake recipe. The name was a reference to Concord, New Hampshire.
From The Appledore Cook Book (1872)
Concord Cake
One cup of butter, three of sugar, one of sour milk, four and a half of flour, five eggs, one teaspoonful of saleratus [baking soda], and the rind and juice of one lemon. Make into two loaves, and bake in a moderate oven fifty minutes.
…………………………………………
For anyone interested in a modern version recommend:
Better Homes and Gardens New Cook Book (1965 edition) Available through Amazon.com (Link to book)
"Best Two-egg Cake" and "Seven-minute Frosting"
Joy of Cooking (1995 edition) Available through Amazon.com (Link to book)
"Gold Layer Cake" and "Seven-Minute White Icing" or "Seven-Minute Lemon Icing"