Hermits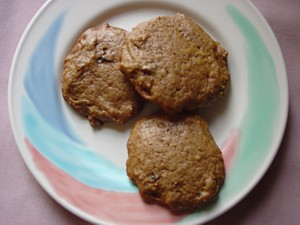 In 1880 the young ladies of the Trinity Church, Plattsburgh, New York published a cook book Champlain Valley Book of Recipes with a Hermits recipe. This was a local cook book in its 3rd edition suggesting it was first printed a year or two earlier.
In 1880 a Boston, Massachusetts publisher published Miss Parloa's New Cook Book with a Hermits recipe. She was the author of Appledore Cook Book, 1872. Her earlier Appledore Cook Book did not have any recipe labeled cookie. It did have Vanilla Jumbles and a couple of cake recipes which were cookies without the name designation. These small cakes were made with a stiff dough, rolled thin, and cut in rounds. Small cakes originated in the 1830's in England.
In Miss Parloa's New Cook (1880) she had two cookie recipes: "Cookies" and "Hermits". The Cookies recipe was for a plain cookie. The Hermits recipe was a richer version of the plain cookie with raisins and spices added. It called for 2 cups white sugar, 1 cup butter, 1 cup raisins, 3 eggs, nutmeg, cloves, and cinnamon. In comparison the Champlain Valley cook book recipe (also published in 1880) called for 1½ cups brown sugar, ½ cup lard, 1 cup raisins or currants, nutmeg, cloves, and cinnamon. No eggs were used in the recipe. This recipe used brown sugar instead of white sugar and lacked eggs. Miss Parloa who was a well known New England cook published her recipe using white sugar and eggs. The inconsistency in the recipes suggests the name and common traits that make a cookie a "Hermit" traveled without published recipes. This is seen in Mrs. Lincoln's version also.
Four years later, in 1884 Mrs. Lincoln in her Boston Cooking School Cook Book published eight cookie recipes: "Cookies – Plain Cookies and Richer Cookies". From these two basic cookie recipes you could make Cocoanut Cookies, Jumbles (previously listed under cakes), Hermits, and New Year's Cookies. A recipe that stood alone was the One-Two-Three-Four Cookies in which each of the first four ingredients increased by one, two, three and four. The last recipe was for Soft Molasses Cookies.
The Plain and Richer Cookies were a simple version of today's common Sugar Cookie. The Richer Cookie was distinguished from the Plain Cookie by the addition of one extra egg. To make Hermits you added ½ cup chopped raisins to the Richer Cookie and rolled the dough out a ¼" thick and cut into rounds. Mrs. Lincoln like Miss Parloa used the richer cookie dough for the Hermits and followed the plain cookie recipe. However, Mrs. Lincoln's 1884 version of Hermits was different from Miss Parloa's 1880 version of Hermits. Mrs. Lincoln lacked the spices whereas Miss Parloa included a combination of three spices. Both of these cooks used white sugar.
In My Favorite Receipts, the Royal Baking Powder Company Cook Book published in New York in 1886 using recipes from women all over the United States there is evidence of the emergence of Hermit type cookies in New England. One woman from Woodstock, Vermont sent in a recipe for Centennial Cookies. Her end comment was "will keep a century if not eaten". A second woman from Apponagansett, Massachusetts sent in a recipe for Fruit Cookies. These recipes are the basic plain cookie recipe found in Mrs. Lincoln's Boston Cooking School Cook Book with the addition of "all kinds of spice" and currants. Currants are similar to raisins but a different type of dried berry/fruit. The currants are the only difference between Hermits and Fruit Cookies & Centennial Cookies. Both of these recipes called for white sugar. Under various names the Hermits recipe along with the original New York version using currants was spreading throughout New England. In this same cook book there was a recipe for Boston Cookies by a lady from Grandville, Michigan. The recipe was for plain cookies without anything added. This was very different from the Bostonians recipe for Boston Cookies.
Ten years later in 1896, Fannie Farmer published the first of her now famous Boston Cooking School Cook Book books that many years later was renamed the Fannie Farmer Cook Book. In this cook book Hermits are cookies with four spices: cinnamon, mace, nutmeg and cloves, and raisins. She included another somewhat similar recipe for Boston Cookies with nuts, a mix of currants and raisins, and a single spice cinnamon. The latter recipe differs from the Hermits and earlier Fruit Cookies in that it added nuts and reduced the spices to cinnamon.
Eight years later in 1904 in Laconia, New Hampshire a local women's group published Home Cookery. In this book there are three similar recipes, two are Hermits recipes and the third is a Fruit Cookies recipe. The Fruit Cookies recipe listed raisins instead of currants as in the older versions of this recipe. Thus the Fruit Cookies and Hermits in this cook book were the same cookies with different names. All of these recipes call for white sugar. In 1905 the Home Cook Book by Expert Cooks published in New York included one recipe for Hermits which used brown sugar. By this time eggs were added to that recipe. The brown sugar seems to be a New York trait whereas white sugar was a New England trait.
In the regional 1936 New England Cook Book there is a recipe called "New Hampshire Fruit Cookies" which has white sugar, nuts, a mix of currants and raisins, and cinnamon. The same ingredients found in the 1896 "Boston Cookies" recipe. Recipe names sometimes had a habit of shifting names. In this cook book the "Hermits" recipe is very similar to the New Hampshire Fruit Cookies in that it included nuts and a mix of currants and raisins, but changed the white sugar to brown sugar. Most recipes that have continued through time evolve. This is a classic example whereby the brown sugar favored by New Yorker's is incorporated and nuts favored in fruit cookies is added to Hermits. The 1950's Fannie Farmer Cook Book has a "Hermits" recipe similar to the 1936 Hermits version with a mix of white sugar and molasses, nuts, a mix of currants and raisins, and optional citrons. In this late version of Hermits New England's favored ingredient molasses is added to white sugar in lieu of brown sugar. This gives a stronger molasses flavor than occurs with brown sugar. The cook book also had the "Boston Cookies" recipe unchanged from 1896 which has white sugar, and only one spice cinnamon. This is a rare exception for a recipe not to change. In other cook books a later version of Hermits added dates, another version gave the cook a choice between raisins, dates, figs, dried apricots or citrons. A few Hermits recipes used mincemeat instead of fruit.
So what is a Hermit? Hermits originally were a plain cookie with spices and raisins or currants added. They started out with brown sugar in the Champlain Valley of New York which is across Lake Champlain from New England's Vermont. In New England Hermits started out with white sugar which continued up until the 1930's. A decade or two later white sugar and molasses came into use by New Englanders which has become the modern day standard. No matter what the sugar type a combination of spices and dried fruit either raisin or currants was the early standard. By the mid-1900s nuts were being added to Hermits and a variety of dried fruits like dates, figs, apricots and citrons. This last development took ingredients associated with Boston Cookies and integrated into the Hermits. Homemade versions call for dropped or rolled & cut cookies. The commercial bakery version is different it was and still is baked in long wide lengths and cut into squares. This shape is what most people associate with Hermits. Cookies in general keep a long time like the Centennial Cookies, as they dry out over time. However, for the best taste cookies are best eaten fresh.
It is likely Hermits developed in the Lake Champlain region. Whether it first occurred in Vermont or New York may never be known. New England cook books show Hermits recipes no matter what the name they were published under early on were well liked and spread throughout the region.
Hermits
Original Hermits
Recipe from Miss Parloa's New Cook Book (1880), page 330
1 cup butter, softened
2 cups sugar
1 cup raisins, chopped
3 eggs
½ teaspoon baking soda dissolved in
3 tablespoons milk
1 nutmeg, grated [or 1 teaspoon ground nutmeg]
1 teaspoon cloves
1 teaspoon cinnamon
6 cups flour
Mix and roll out ¼" thick, cut with a round cake cutter.
Bake in a quick oven [350 degrees] for 12 minutes
Modern Hermits
Recipe from Boston Globe's Cook Book, 1969, page 18
From a grandmother to a bride (her granddaughter)
Soft Spicy Hermits
Cream together:
1 cup sugar
½ cup butter and lard mixed [or ½ butter]
Sift together:
3 cups flour
1 teaspoon cloves
1 teaspoon cinnamon
½ teaspoon nutmeg
½ teaspoon salt
1 teaspoon soda
and add this mixture alternately with:
½ cup molasses
½ cup sour milk (to sour sweet milk, bring milk to room temperature and add 1½ teaspoons vinegar)
Finally add:
1 egg, beaten
1 cup chopped raisins or dates or both
Heat oven:
350 degrees
Homemade method
Drop by heaping teaspoonfuls onto a greased cookie sheet. Flatten with a spatula dipped in milk. Bake 12 to 14 minutes. This method made excellent hermits.
Original bakery style method given with the above recipe
Spread on a greased cookie sheet about 1/2 inch thick.* Bake 10 to 12 minutes. While warm cut in oblongs. Sugar sprinkled over the top while still warm is fine.
- Birch Tree Path
*Author's note: spreading the batter evenly on a cookie sheet was difficult. Original recipe said spread ½ inch thick. At that thickness the dough doubled in height and took 30 minutes to cook. If you want to try bakery style suggest you change the ½ inch thickness to a ¼ inch thick like old recipes called for which should make the hermits cook much faster.