Christmas Cookies Tradition
By Mary Gage
"Sweets and all one can eat are the rule on Christmas day. Cookies and cakes, candies and nuts – one must favor these after the turkey and pudding are no more."
- Springfield Republican 12/12/1920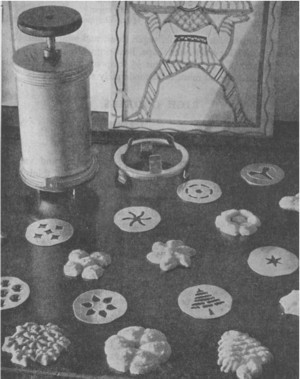 History
Amelia Simmons, American Cookery (1796), had two cookie recipes "Cookies" and "Another Christmas Cookey". These are the only two cookie recipes in her cookbook. The word "another" in the second recipe suggests both cookie recipes were associated with Christmas. The recipes said to roll the dough a half-inch thick and three-quarters of an inch thick. Both had pearl ash an early dough rising agent. Simmons stated the "Cookies" would keep for three weeks and the "Christmas Cookey" which was hard when first baked, when stored "they will be finer, softer and better when six months old." (page 35)
In the Daily Herald of New Haven, Connecticut D. P. Tucker the owner of a Confectionary Store (candy store) ran several advertisements in December of 1839. In the advertisements, Tucker states "New Year Cakes & Cookies". In the advertisement printed on Dec. 23 he included Christmas and New Years. In that same advertisement he added N.B. "New Year Cakes & Cookies". By doing so he implied candy was for Christmas, and cookies and cakes were for New Years. On Dec. 27 a Mrs. Huggins advertised "New Years Gifts" similar to Christmas gifts. New Years was a big holiday possibly more so than Christmas at the time.
When Mrs. Lincoln published her first Boston Cooking School Cook Book in 1884 she had a recipe for "New Year Cookies". It is similar to Simmons "Cookie" recipe in that both of the recipes called for making syrup with boiling water and sugar.
Between 1845 and 1899 cook books from various states: Illinois, Maine, Utah, Minnesota, New York, Michigan and one from New England each had a single Christmas Cookie recipe. This followed Simmons example.
In 1896 Fannie Farmer took over the Boston Cooking School and published her first Boston Cooking School cookbook. This edition has a large selection of cookie recipes, the first to do so, but none are associated with any holiday.
Newspapers are another wonderful source. Unlike the business-like manner cook books are written in, newspaper articles are specialized and often chatty. The Dec. 12, 1909 Fort Worth Star Telegram (Texas) printed "A Bunch of Recipes for Christmas Cookies". This is an early published source with a list of cookies associated with Christmas. It had ten cookie recipes but no other information on the custom. The Christmas Cookie Tradition is based on a variety of favorite cookie recipes gathered together.
In Massachusetts a few years earlier (1901) a couple of newspapers were more informative. The Springfield Republican carried an advertisement, "Xmas Dinner" It advertised a demonstration of special dishes for Christmas at the New England School of Cookery (12/17/1901). What was interesting was to see the slang term of Xmas. The Worcester Daily Spy had an article with Christmas Recipes. It begins with the lines:
"Christmas comes but once a year
And while it lasts we'll have good cheer"
In the article there were a couple of cookie recipes with small notations. "Christmas cookies ….. These cookies belong to the province of Holstein." "The next is a recipe coming from Frankfort-on-the-Main" (12-21-1901). The author pointed out the two cookie recipes came from foreign countries. They were new to New England and exciting.
A few years later the Springfield Republican (12/18/1912) carried an advertisement for "Leb-Kuchen for Christmas" by a local merchant. In this case, the cookie was purchased in its home country where it was made and sold in Springfield, Massachusetts. It carries the same mystique as the foreign recipes.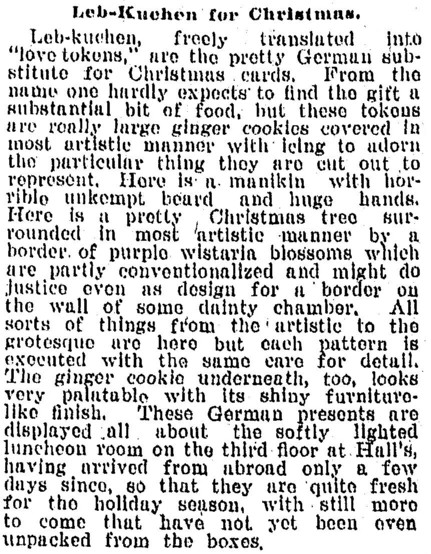 (Click on image to bring up larger version)
Springfield, Massachusetts embraced the Christmas spirit and festivity. In 1920, another article posted several Christmas cookie recipes: Christmas Peppernuts, Bohemian Christmas Cookies, Swiss Crumpets and Cookies Fruitina. Again, the foreign recipes prevailed over New England recipes. (Springfield Republican 12-12-1920)
Another article in the Springfield Republican (12/20/1922) gives insight into the tradition that is emerging. In the "The Modern Housekeeper" column was an article titled: "Almond Dainties For the Christmas Party." It reads, "Small cakes and cookies are always a necessary part of the Christmas week eatables. A few for the hungry kiddies on their vacation, some for the young folks' holiday party and you'll want some more to pass around to your neighbors and friends when they come in and see the tree and gifts." It included 3 cookie recipes and a Christmas Coffee Cake recipe.
From here we go to Boston and the Boston Herald. In 1927 the Herald printed "Cookies for Christmas Are Holiday Season Favorites". It was a list of nine cookie recipes many of them with foreign names (12-13-1927). The next year, the newspaper had "Holiday Cookie Recipes on Radio". This was an interview with Ida Bailey Allen, president of the National Radio Home-Makers' Club who had their own kitchen laboratory. This was professional not amateur. The radio show promoted "Christmas packages offer not only a solution for gifts. They also provide a very profitable means of making Christmas money." The broadcast was directed to girls and housewives. It encouraged them to make the Christmas packages at home and sell them through local stores (12-9-1928). The following year, the newspaper had an article that included a Christmas Honey Cookie but the article was not Christmas oriented. The article was titled "In the Kitchen: 13 Year-Olds Being Taught Food Values and Economy." It started out with "Wouldn't you like to be able to take a peak at the world about a hundred years from now, just to see what the present generation will have accomplished with the marvelous resources at their command?" The reference was to a book on science in which the 13 year olds "were being taught food values and domestic economy." (12-16-1929)
Ida Allen was at the forefront of technology herself, a pioneer in broadcasting "How to" cooking programs on the radio. Here we are nearly a hundred years into the future. Television now broadcasts "How to" cooking shows. This article is being posted electronically on the World Wide Internet. We still have books but for how long? We have countless (or so it seems) electronic devises that our grandparents, the 13 year olds could never have imagined taking the place of books. But have things changed all that much? At our Thanksgiving dinner this year (2012) there were more foreign dishes than New England dishes. Like earlier generations who built their Christmas Cookie lists from foreign cookie recipes we too, like new and exciting foreign dishes.
The prices were a bit lower back then. This was an advertisement for "Christmas Cakes & Cookies":
Delicious Fancy, Plain and Filled Cookies
LB PKG 29 cents
Delicious Chocolate Coating
With Marshmallow Filling
[sounds really good]

Another pioneer in radio broadcasting regarding cooking programs was Majorie Mills. Mills was the Boston Herald's Women's Page Editor and Director of the New England Kitchen of the Air (Boston Herald 2-5-1933). She had 3 broadcasts a week in 1930. Some of her radio broadcasts were published in the newspaper. Columns in the years 1930, 1933, 1934, 1935 and 1936 in December had references to Christmas Cookies. A few were totally dedicated to Christmas Cookies of which included a cookie recipe contest. Her 1934 column started with "It won't be our fault if you don't make some Christmas cookies this year for we're starting early to try to lure you into that fascinating occupation" (12-8-1934). Her 1936 article starts out with "Do try and save your Herald pages so you'll be ready with the recipes when the day rolls round for your plunge into Christmas cookie making." (12-10-1936)
By 1933 she had a recipe contest running for the Christmas season. Each week there were five $1.00 prizes for the best recipes. She notes in 1936, "with literally hundreds of Christmas cookie recipes waiting to be printed, your editor is completely floored!" The winners from one week came from far and near:
White River Junction, VT
Stoneham, MA
Manchester, NH
Manchester, MA
Wollaston, MA
The newspaper reached from Massachusetts into Vermont and New Hampshire.
Cook books like all books generally are ten to twenty years behind the newspapers and what is going on in society. Some time between 1917 and 1925 (gap in my editions) Fannie Farmer started publishing the "Christmas English Gingerbread" recipe in the Boston Cooking School Cook Book. This suggests the gingerbread association with Christmas may have come from England as gingerbread was already well established in New England. Simmons had three different gingerbread recipes in her cookbook. The Christmas English Gingerbread was rolled thin and cut into shapes perfect for the holiday.
From 1925 through the 1936 edition, this is the only cookie recipe associated with Christmas. Between 1937 and 1944 there is another gap in my Boston Cooking School Cook Book editions. The next edition I own is 1945.
Some time during that eight year period the cook book caught up with what was going on in society. The 1945 edition opened its Cookies chapter with lists of cookies appropriate for different occasions:
Simple Cookies and Cakes (for children, lunch boxes, etc.)
Tea Cookies and Cakes
Christmas Cookies
Party Cookies and Cakes
This gave hostesses, mothers as well as ladies entertaining more formally guides as to what was appropriate. Note Christmas is the only holiday listed. Here is the list with the names of the cookies:
(When packing a variety to send away, fill spaces with popped corn.)
Christmas Sugar Cookies [richer version of the common sugar cookie]
Orange Cookies [variant of the sugar cookie]
Gingerbread Men
Nut Balls
Rocks
Hermits
Cinnamon Kites (or Stars) [meringues]
Viennese Crescents [shortbread, type]
Butter Stars [butter cookie]
Hazelnut Strips
Wasps' Nests [meringues]
Norwegian Butter Cookies [butter cookie]
(Page 665)
The list included a statement on shipping cookies. That is quite different from giving cookies away as small gifts to neighbors and friends. This was the year after WWII ended. It suggests the concept of Christmas Cookies in New England was enhanced by the war. Cookies could be shipped as they kept well for long periods. They did not melt like candy in hot climates and did not go stale like cake. The cookie was the perfect sweetened confection to "send away".
The above list was a suggested list of cookies. It did not make any pretensions about the cookies which were common recipes for use throughout the year. This list remained status quo for the next five years.
I have another gap of nine years between editions. In the 1959 edition there are another set of changes. This edition gives a baking schedule with various kinds of cookies to take place over the course of several weeks. There is no list of recipes. It added the words "Christmas Tradition" to a couple of recipes. The Viennese Crescents had added "traditional for Christmas" and Wasps' Nest had added "Traditional Christmas cookies, but wonderful any time of year." These two cookie recipes were not in the 1936 edition. They show up sometime between 1937 and 1945. Sometime between 1951 and 1959, they started being called traditional Christmas cookies. This is strange as the recipes were modern or adopted into the New England culture at that time. This edition dropped the Christmas Sugar Cookie recipe. These changes indicate social changes within New England society (populace). The people were attempting to be modern and nostalgic at the same time and the Boston Cooking School was advancing the concepts.
By 1965, the list idea was re-introduced with new varieties of cookies. This Christmas Cookie list included:
Chewy Noels
Butter Stars
Cinnamon Stars [also called Kites]
Crescent
Date Lebkuchen
Gingerbread Men
Linzer Schnitten, "A wonderful Christmas cooky"
Royal Fans
Rum Balls
Sand Tarts
Sugar Cookies [re-introduced]
Viennese Crescents
Wasps' Nests
There are a few holdovers and numerous new recipes. The Linzer Schnitten are introduced as "a wonderful Christmas cooky" verses a traditional Christmas cookie. The nostalgia is not as strong any longer.
The Christmas Cookie Tradition in New England got started in the early 1920's and got established during World War II. It became imbedded and was carried forward by radio broadcasts, newspapers, and the Boston Cooking School Cook Book reaching millions of women. It is a modern tradition which is dearly loved. An excerpt from Favorite Recipes from the Diary of a New England Cook by Corinne Morse, Jewelltown Farm, South Hampton, New Hampshire:
"MONDAY, DECEMBER 2
The days seem too short when Christmas time arrives. Most of my Christmas shopping is done but there are always last-minute things to buy, and always there is cooking! I make many kinds of cookies to take to neighbors and friends at this time of year. The day before Christmas, the girls and I fill small baskets or containers with an assortment of cookies and candied grapefruit to distribute. When my girls were young they always walked to the neighbors to take this little Christmas remembrance." (1978)
Christmas Cookie Recipes
Christmas Sugar Cookie
(1945 Boston Cooking School Cook Book, page 667)
1 cup butter
1 cup sugar
2 eggs
1 Tablespoon cream or milk
½ cup sour cream
1 teaspoon baking soda
½ teaspoon vanilla
½ teaspoon salt
1 teaspoon baking powder
Add sufficient flour [1½ to 2 cups] to make stiff enough to roll
Soften butter and beat in sugar, eggs, cream or milk, sour cream and baking soda mixed, and vanilla. Add salt, baking powder mixed with flour. Chill, roll ¼ inch thick. Cut out with fancy cutters. Bake. Frost with Confectioners' Frosting and sprinkle with colored sugar.
Confectioners' Frosting
(Page 652)
¼ cup boiling water, milk, cream, or fruit juice
Confectioners' sugar
Flavoring
Add sifted sugar to liquid until of right consistency to spread; then add flavoring.
Butter Stars
(1945 Boston Cooking School Cook Book, page 671)
½ pound butter [2 sticks]
1 egg yolk
6 tablespoons powdered sugar
3 cups flour
1 tablespoon wine
1 egg white
¼ cup sugar
¼ cup chopped blanched almonds
Cream butter, add egg yolk, sugar, flour, and wine. Chill. Roll ¼ inch thick. Cut out in star shape. Beat egg white until stiff, fold in sugar, and pile on cookies. Put ½ teaspoon blanched almonds on each and bake 30 minutes in moderately slow oven (325 degrees). Makes 36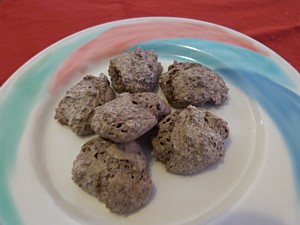 Wasps' Nest
(1945 Boston Cooking School Cook Book, page 683)
½ pound blanched almonds
¼ cup water
½ cup sugar
3 small egg whites
½ pound powdered sugar (conversion: 2 cups confectioners' sugar, 1965 edition)
1 cake German's sweet chocolate, grated (conversion: 8 ounces of semi-sweet chocolate, grated, 1965 edition)
Shred almonds lengthwise [or buy slivered almonds]. Cook sugar and water to 240 degrees or until it spins a thread and stir in almonds. Beat egg whites until stiff, beat in powdered sugar [a spoonful at a time], and add [fold in] chocolate and almond mixture. Arrange by half teaspoonfuls on buttered and floured cooky sheet and bake in slow oven (300 degrees) about 25 minutes until dry. Let stand 10 minutes before removing from tin. Makes 100
RECOMMENDATION: Do not make sugar & water syrup for almonds - they clump together and make
the cookie hard! INSTEAD - Chop almonds and fold into meringue mixture, then bake, can be made by teaspoonful. The recipe can be made without the almonds as well. For a more modernized recipes see the Tiffin Box blog version of the recipe.
Gingerbread Men (see "Gingerbread")
Copyright © 2012. All Rights Reserved.
No portion of this article may be republished without written permission from the author.
Please feel free to link to this webpage.