Boston Baked Beans
from Durgin Park Restaurant
Boston, Massachusetts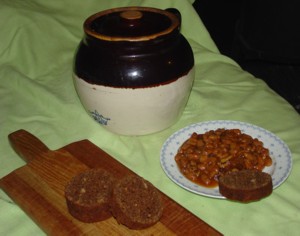 This recipe was given away free in a brochure at Durgin Park. That was about twenty years ago. The pamphlet said the recipe was 130 years old. Today it makes the recipe approximately 150 years old. "… Hallett [owner of Durgin Park] brought his elder brother Edward into the business and made him Chief Bean Man, a century old position which carries with the responsibility of preparing the century-old recipe for Boston baked beans according to strict and undeviating ritual. The recipe is as follows:
Boston Baked Beans
1 six quart or 2 three quart bean pots
2 pounds beans – California pea beans preferred or York State beans
[small white dried pea beans]
1 pound salt pork [for people who can not tolerate preservatives which all salt
pork is treated with, substitute with all natural bacon]
8 Tablespoons sugar [1/2 cup]
2/3 cup molasses
2 teaspoons dry mustard
4 teaspoons salt
˝ teaspoon pepper
1 medium-size onion

Soak beans [in water] overnight. In morning parboil for ten minutes with a teaspoon of baking soda. [Drain in a colander.] Then run cold water through the beans in a colander or strainer. Dice rind of salt pork in inch squares, cut in half. Put half on bottom of bean pot with whole onion. Put beans in pot. Put the rest of the pork on top. Mix other ingredients with hot water. Pour over beans [to just cover]. Put in 300-degree oven for six hours. This will make ten full portions.

"You can't let the pot just set in the oven," explains Edward. "You've got to add water as necessary to keep the beans moist. And you can't be impatient and add too much water at a time and flood the beans."
NOTE: This recipe can cut in half by using 1/2 of all the ingredients.
Boston Beanery
By Allan Gould and Emile C. Schurmacher
Reprinted from Collier's Magazine
No date given on brochure
Serve with Brown Bread
History
Baked beans show up in 1833 in the Frugal Housewife. There is no recipe title it is simply labeled Beans and Peas. Beans and peas were both shelled and dried for use after the garden season. Cooking methods were the same for both. They could be boiled until soft, or parboiled and baked. When baked, pork was added to the beans or peas and they were baked slowly, three to four hours. According to the Frugal Housewife, "A pound of pork is quite enough for a quart of beans, and that is a large dinner for a common family."
The first recipe to be called Boston Baked Beans was found in the Improved Housewife dated 1855 published in Boston. This recipe added a spoonful of molasses, used salt pork in with the beans and doubled the baking time. The author suspects the addition of molasses is what prompted the name Boston Baked Beans. During the next quarter century, sugar is added, the amount of molasses was increased, dry mustard spiced it up and some added an onion. The sweetener increased from one spoonful to a ˝ cup. The combination made a rich tasting baked bean originating from Boston. Boston Baked Beans as we know them today date to the last quarter of the 19th century. Fannie Farmer in her 1912 Boston Cooking School Cook Book stated, "The fine reputation which Boston Baked Beans have gained has been attributed to the earthen bean-pot with small top and bulging sides in which they are supposed to be cooked. Equally good beans have often been eaten where a five-pound lard pail was substituted for the broken bean pot." (p239)
Baked beans were so popular by the mid 1900's a whole page was dedicated to variations of the basic recipe in A Vermont Cook Book. Baked beans were Saturday night dinner. During WWII my mother recalled making baked bean sandwiches for lunch.
Baked beans have been called by several different names:
Baked Beans
Pork n' Beans
Boston Baked Beans
New England Baked Beans
Vermont Baked Beans
In Vermont the yellow-eyed bean was used, hence the Vermont Baked Bean. In Boston small, white, pea beans were preferred. Otherwise, the recipes were the same.